Sonntag 17.12.2022 17.00 St Michael, Jesuitenstrasse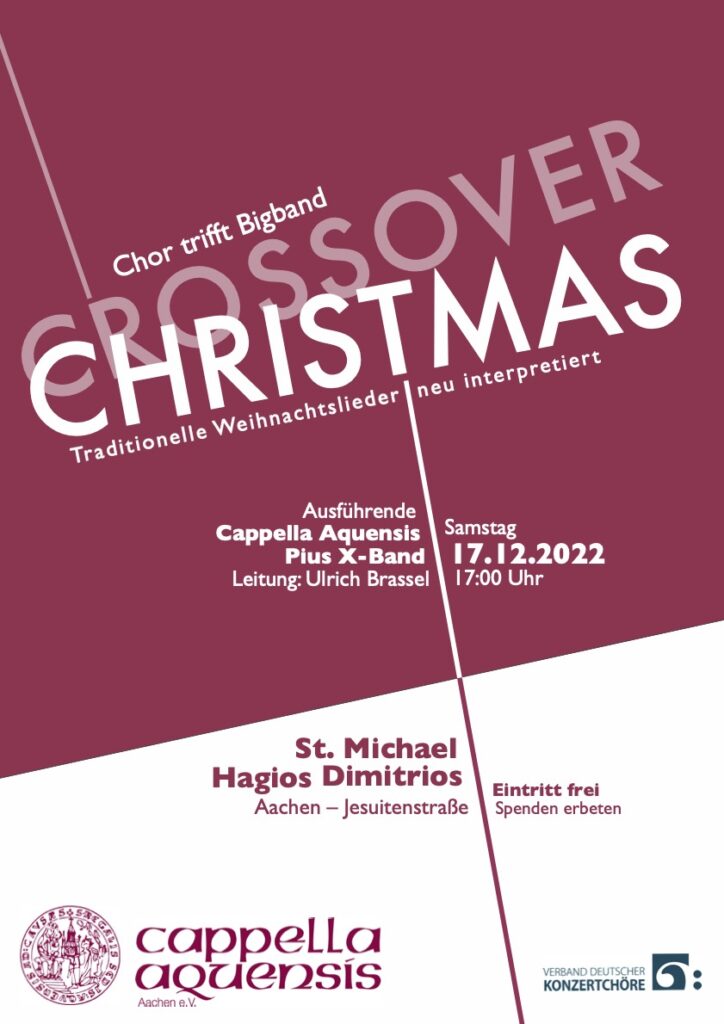 Auf ungewohntes Terrain begibt sich in diesen Wochen der Konzertchor Cappella Aquensis. Der etwa 30-köpfige Kammerchor, der vor fast 60 Jahren aus dem Aachener Domchor hervorgegangen ist, widmet sich üblicherweise dem klassischen Repertoire, vor allem der weltlichen und geistlichen a-cappella-Musik des 16. bis 20. Jahrhunderts sowie den bedeutenden Oratorien des Barock und der Romantik.
Das diesjährige Weihnachtskonzert steht dagegen ganz im Zeichen des Jazz-Gesangs. Möglich macht dies eine Kooperation mit der Pius-X-Band, einer Bigband, die aus ehemaligen Schülerinnen und Schülern des Aachener Pius-Gymnasiums hervorgegangen ist. Die inzwischen erwachsenen Musikerinnen und Musiker, die eine langjährige Banderfahrung verbindet, die aber längst nicht mehr alle in Aachen wohnen, treffen mehrmals im Jahr zu anspruchsvollen Projekten zusammen. Geleitet werden sie dabei von Ulrich Brassel, der die Bandarbeit am Pius vor mehr als 25 Jahren begründet hat und – hier schließt sich der Kreis – seit fast fünf Jahren auch künstlerischer Leiter der Cappella Aquensis ist.
"Ich freue mich sehr auf dieses Crossover-Projekt, bei dem neben weihnachtlicher Unterhaltungsmusik auch viele traditionelle Weihnachtsgesänge erklingen werden", sagt Brassel, der mit seiner Programmgestaltung bewusst so manchen musikalischen Kontrapunkt setzen möchte. So erklingen einige englische Christmas Carols zunächst im schlichten a-cappella-Satz, bevor sie direkt danach im Bigband-Sound stilistisch verjüngt werden, etwa als Samba oder Bossa Nova. Chorarrangemens unter anderem von Kirby Shaw (Carol of the Bells), Shawn Kirchner (O How a Rose E´er Blooming) und Steve Zegree (Christmas Time is Here) entführen das Publikum direkt in die Klangwelt von "Swinging Christmas". Und da dürfen natürlich weder "Frosty, the Snowman" noch "Jingle Bells" fehlen!
Zu hören sein wird all dies in einem Konzert unter dem Motto "Crossover Christmas – Chor trifft Bigband" am Samstag, dem 17. Dezember, um 17:00 Uhr in der Kirche Hagios Dimitrios in der Jesuitenstraße. Der Eintritt ist frei, Spenden erbeten.